Gee Vee Travel 2021 Coach Holidays
37 years of touring with you
Dear Friends,
We have reached out 37th year of touring. Despite a testing time throughout the past 12 months, we can all hope that everyone associated with Gee Vee and beyond have come out the other side.
We have been upgrading our regimes and policies in response to the Covid 19 outbreak. Our priority is safety and relaxation whilst on our holidays, with concerns for staff and customers at the forefront of our minds, we feel confident that we can provide true quality for everyone on all our tours. Looking forward to this new year. We can't wait to be continuing to visit to our favourite destinations and, adding in some more new and exciting places and even revisiting some old areas.
Gordon, Val, family and staff that you for your much valued support in 2020 and hope have a prosperous 2021.
---
Coach Tour Destinations
In addition to the many destinations we'll take you to visit in Britain and Ireland, we also run trips to Jersey.
Due to the uncertainty with Europe and Brexit we will be giving our European tours a rest this year as we dont want to disappoint with visas/borders/currency all changing.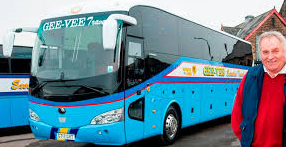 For further details on our coach tours please give us a call. We're sure it will provide you with everything you need to know to help you choose your destinations.
To plan your staycation, check out Coach Holidays At a Glance...
Any further information can be obtained by speaking to one of our friendly office staff. Click here to call »
---
Gift Vouchers
Don't know what to get someone for Christmas or their Birthday, or even just to say thank you?
Do they like holidays?
Then ponder no more as Gee-Vee Travel do gift vouchers in any denomination, redeemable against their holidays and coach tours.