Guide to Booking Your 2021 Holiday
Please read carefully
What we need to know:
When you book your holiday, we need to know your Name(s), full Address and Telephone number. Should you have any special requests (such as low floor rooms, sea view, adjoining rooms) you MUST advise us at the time of booking. We will then pass on our special request to the hotel(s) concerned. We generally receive many requests however, and under no circumstances can we guarantee that they will be met or that the hotel(s) is/are able to provide the requested facility. Coach seats are reserved when making your booking but if we have to put two tours on one coach seating will change. We cannot, therefore, accept a booking which is made conditionally upon a special request or coach seat being satisfied. We aim to provide you with the best holiday possible, but in the unlikely event that a problem should arise, you MUST bring this to the attention of your driver/hotel manager, so that we can resolve the matter on the spot we cannot sort it out a week later when you get back SO PLEASE SAY SOMETHING.
WHEELCHAIRS/WALKERS
Limited to 4 per tour. These must be flat folding due to space limitations. Please notify our staff at the time of booking if you are taking a wheelchair/walker. Sorry no Motorised scooters, most Hotels have scooters delivered on request .
YOUR PICK UP POINT
We offer a door-to-door pick up service on most tours (Subject to area*) over 4 days in duration unless otherwise stated or the special offer price tours.. However, to reduce costs and time for stays of just 2 or 3 days we have had to introduce a pick up route as follows: BARNSLEY BUS STATION, SHEFFIELD INTERCHANGE (POND STREET) AND CHESTERFIELD BUS STATION. For the comfort of all passengers these points must be adhered to and your pick up point must remain the same as your return point. *Areas included are BARNSLEY, CHESTERFIELD AND THE DEARNE AREA.
Any customers from the Sheffield area will receive £5 discount to get to either CHAPELTOWN, HERRIES ROAD, SHEFFIELD INTERCHANGE (POND STREET) or CHESTERFIELD BUS STATION.
Any alterations to your address or pick up point must be notified to our Barnsley Office no later then 8 DAYS prior to departure.
TERMS OF BOOKING
WE ACCEPT CASH, CHEQUE OR DEBIT CARD/CREDIT CARD We do NOT charge for card payments.
A NON REFUNDABLE DEPOSIT OF £30 + INSURANCE (IF REQUIRED). (£130 Deposit for Jersey) MUST BE PAID WITHIN 7 DAYS OF BOOKING.
If you have your own insurance or wish to travel without you will be asked to complete an insurance disclaimer form.
Your balance must be paid 6 weeks prior to departure. (Jersey 8 weeks prior)
HOTEL FACILITIES
All information regarding hotel facilities are taken from each individual hotels brochure. For information or enquiries regarding lifts/stairs, etc please consult the hotel brochure or contact the hotel concerned. All our hotels will have imposed by law the non smoking policy. Each hotel will have outside designated smoking areas and will advise visitors on arrival.
INFECTION CONTROL POLICY
The company must be notified if any customer has tested positive for covid or suffered from either vomiting and / or diarrohea within 72 hours of travelling. Please note some hotels may refuse any persons who they consider to be a risk to other passengers or staff due to being taken ill during transit. (This strict policy helps protect you, staff and other travelling guests).
DISCLAIMER FOR ALL INCLUSIVE WITH FREE BAR IN SCOTLAND
'Under the terms of the licensing (Scotland) act 2005, the supply of alcoholic drinks in our All Inclusive Packages is not unlimited. Subject to our or Hotels discretion in the case of drunkeness, patrons on an All Inclusive Package shall be permitted a maximum of £15 worth of alcoholic drinks per day as part of the package'.
CANCELLATIONS/TRANSFERS
To avoid any unpleasantness we advise you to read your insurance very carefully on receipt as refunds of premiums cannot be issued unless it is within 14 days of purchase. A transfer fee of £10 per person will be charged for any changes made EARLIER than 6 weeks prior to departure. Transfers not allowed under 6 weeks.
LUGGAGE
As the majority of our pick ups are done by taxis we would like to stress that luggage must be restricted to one small suitcase per person(max 15kgs in weight) or one medium suitcase per couple plus one item of hand luggage. Your 'GEE VEE TRAVEL' luggage labels will be issued when you pay your balance in full and these must be clearly marked with your name, address/pick up point and holiday destination.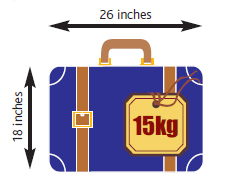 Please see opposite for maximum dimensions and weight of your suitcase. THIS IS ALSO A GENERAL PRESUMPTION THAT SHOULD THE NEED ARISE YOU CAN LIFT YOUR OWN SUITCASE (Most Hotels provide porterage but it IS NOT guaranteed).
The company reserves the right to cancel any tour due to public demand or change any hotels or itineraries due to unforeseen circumstances. We will do this as soon as we possibly can.
INCLUDED EXCURSIONS
5 day tour = 1 full day + a ½ day excursion. 6/7 day tour = 2 full day excursions. 8 days and above tour = 2 full days + ½ day excursion. Unless otherwise stated. Venues for excursions will be at the drivers discretion. Due to Driving hours restrictions Drivers MAY not be able to drive which COULD impact these days out
DUTY FREE
Although government guidelines have changed regarding limits on duty free, due to space limitations these guidelines may not be accepted.
Data Privacy
Gee Vee Travel is committed to ensuring the security and protection of the personal information that we process, and to provide a compliant and consistent approach to Data Protection.
CANCELLATION CHARGES
Prior to 42 days before departure Deposit only
29 to 42 days before departure date 30% of holiday cost
15 to 28 days before departure date 45% of holiday cost
8 to 14 days before departure date 60% of holiday cost
1 to 7 days before departure date 100% of holiday cost
V.A.T. is included at 20% any amendment of this or ANY other Tax or Brexit failures could result in a price variation.